[Edited: I noticed there might be some tonal issues with the post in its original and have expanded in a few places]
I feel like it's been an eternity since I've contributed to my blog, but I'm house-sitting for somebody with a desktop this weekend so hopefully I can crank out a couple of drafts to post later. For now I'm going to address the click-baity topic I've chosen for this post.
Some context: Every couple of months or so acephobes will dig up an AVEN forum post David Jay posted in 2003 with the f-slur in it and shove it in ace people's faces like "IS THIS YOUR KING?"
Sept 2018:
Feb 2020:
It's so routine at this point that aces and bisexuals in my circle have a script (seen above in quotes) and links ready to go in our bookmarks. Why are bisexuals jumping to Jay's defense? Jay's been out as biromantic since the 2010s and the bi community definitely doesn't like it when you call bi folks "cis het". My personal favorite link to whip out is a 2019 article from The Sun about how Jay is in a queer-platonic-TRIAD with a married couple and is helping them raise their kid. It's my favorite because it was actually written IN THE PAST DECADE and I'm totally jealous because that's living the ace dream right there.
We would absolutely love to forget about David Jay. The dude is old news and there are other currently active voices in the community like, Yasmin Benoit, that we want people to focus on instead. David Jay built the foundations for largest asexual web resource when he was 18. That was hella impressive in 2001, but it's 2020 and any teenager could build a web page from their smart phone (total hyperbole there, but you get my point). Might be a fun quarantine activity. But acephobes just refuse to let it go and have added on to the narrative:
June 2020:
Whoa, whoa, wait just a minute. What the fuck is this about "treating his wife as an experiment for sex"? Where did THAT come from? That's not the first time I had seen it either. I had received a submission for @AphobeHottakes two day's earlier that had said something similar: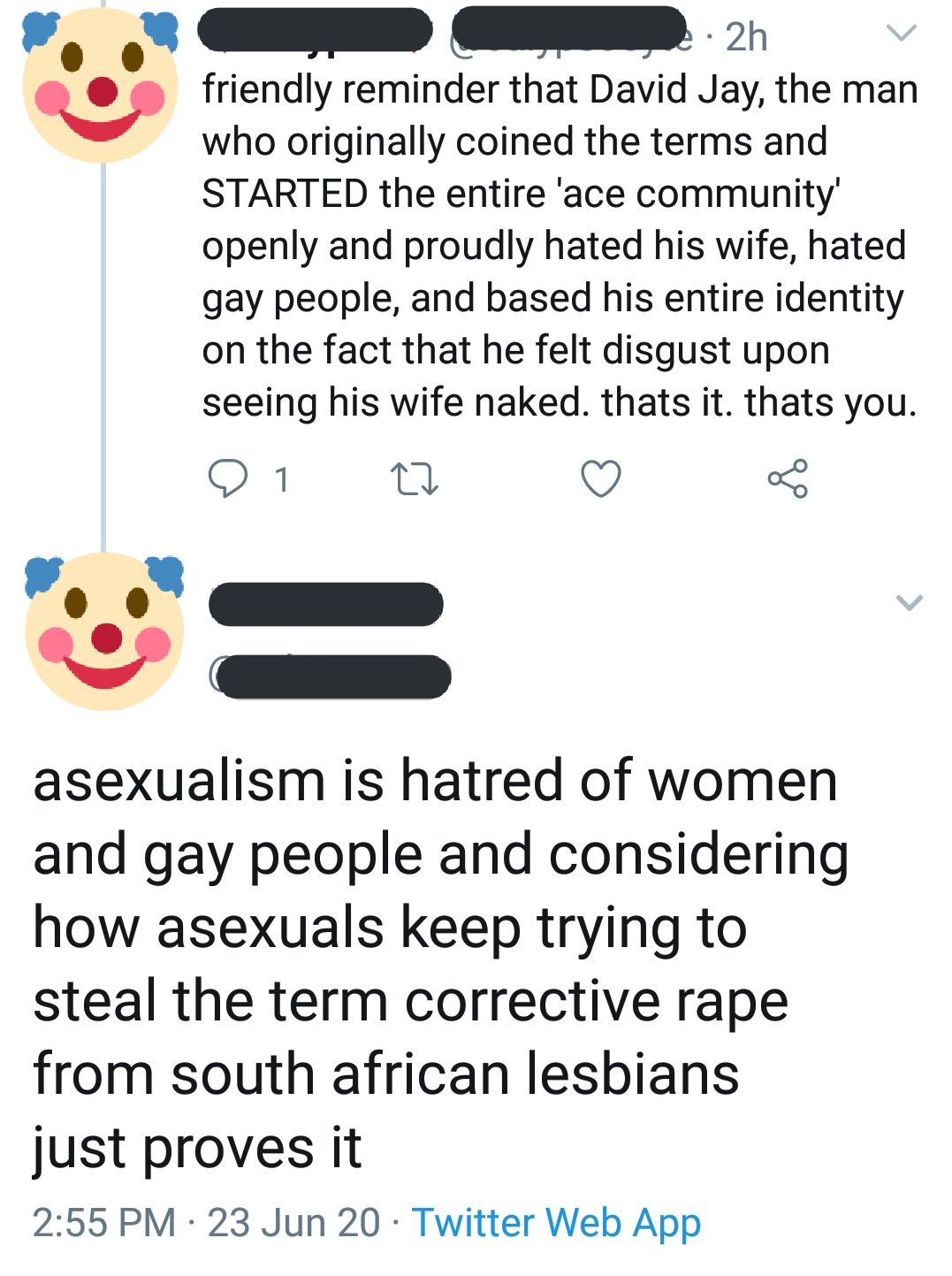 That's the point where I realized in horror and astonishment, "omg, this is a thing." Acephobes literally made up an entire fake abused ex-wife as part of their smear campaign against the ace community. To clarify, I don't even like the guy. I only know about David Jay because of the big stink people kept reblogging on tumblr and like every other newbie ace was like "…..who????" He's not even the first person I'd point to as an ace advocate because for myself and a lot of newbie aces the FIRST time we about David Jay is from acephobes and the instinct is "oh, shit I better distance myself from this bad press".
I had to figure out where the fake ex-wife story came from because holy cow:
That is a hefty claim to make without any sources to back it up. I certainly would be more inclined to believe it if there was ANY mention of him having been married in ANY of the articles people have written about him ever. His interview on The View from 2006 is something I could have lived without seeing because it is painful to watch. As I said in previous posts, I am not going to dig through 18 years worth of AVEN forum archives because I don't think there's an acephobe on this planet who has dug though 18 years worth of AVEN archives. That's where I draw the line. So, where does this made up ex-wife story come from?
Who are we kidding, it came from tumblr:
(Please forgive the above image quality I had to splice together three separate mobile screenshots in ms paint). I selected the above post to be the example because several other tumblr posts reference it AND it INCLUDES the SOURCE!!! YAY!!! It is unbelievably frustrating when you're trying to look up the source of a smear campaign and people just go, "idk, I read it somewhere a while ago".
First of all, David Jay's wiki article doesn't mention any previous marriages (or any marriages period obviously) and the 8th reference isn't by Olivia Gordon, it's a 2016 blog style article "5 Romance Tips From The World's Most Famous Asexual" by Rachel Cassandra and Katie Wudel. But that's okay, they still give us the name and date and author of the article they're referring to and Google is magic.
But then it's full steam ahead directly into a paywall dammit.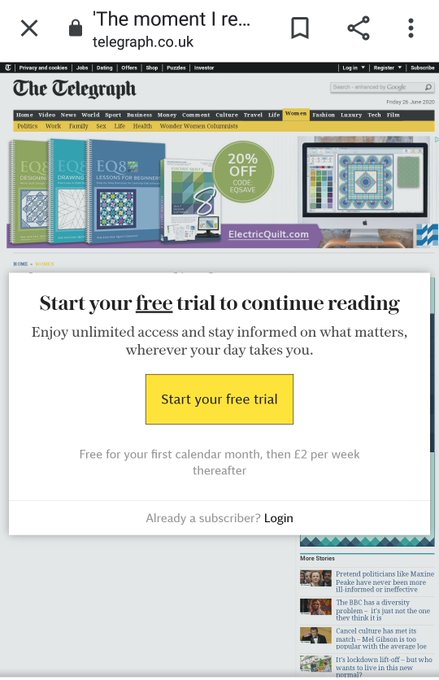 Also for an American activist he weirdly seems to get a lot of UK coverage. Anywho, at this point I was not going to give up. I was going to see what's in that article dammit! My very crude, but surprisingly effective strategy was to keep reopening the link and taking a screenshot before the paywall slammed shut.
…..And nothing. The article a collection of stories about how several different women discovered asexuality. There's no wife, no age-gap, no grooming, NOTHING (obviously, what else were we expecting?). Acephobes took elements from several of the women's individual stories and basically Frankenstein monstered a fake backstory for David Jay's fake ex-wife probably thinking nobody would care enough to check. David Jay is tacked on to the end of the article (and the only ace man mentioned) because the article is about asexually. I think the article gives more word space to Professor Bogeart (whose book had just come out) than it does Jay.
And that's where I decided to end my "investigation" because the next logical step would be to start digging through the AVEN archives and making a reference carrd or something and we've already established I'm not going to do that. If people can't forgive David Jay for the "homophobic post" he made in 2003, fine, whatever, that's their personal choice. If acephobes are going to keep bringing it up I would strongly prefer that 1) they get his romantic orientation right, 2) cite more than one post, and 3) cite something just a little more current.
And most importantly, I would prefer if they didn't just make shit up.
.
.
.
.
[P.S. Here are the screenshots of The Telegraph article for your fine print reading pleasure. I realized later that you can also print out the article before the paywall slams shut, ugh]